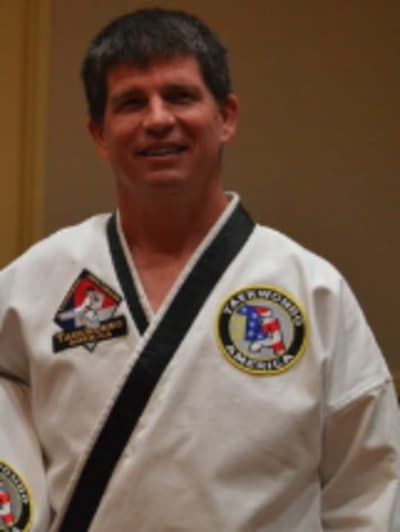 Mr. Drew Catha
Mr. and Mrs. Catha are the chief instructors and owners of the school here in Winston Salem NC. They are both nationally certified instructors with each having over 20 years of experience in the martial arts field.
Mr. Catha is the Program Director. He is an 5th Degree Black Belt and a Senior Level Instructor. Mrs. Catha is the Chief Instructor. She is a 3rd Degree Decided Black Belt and a Senior Level Instructor. Mrs. Catha often gangs up with students and parents together to make evil plans to drive Mr. Catha nuts... ;-)
Taekwondo training began for Mr. Catha in 1984 under Master Rick Hoadley from Mobile, Alabama earning his 1st degree Black Belt.
Continued training in Jacksonville Florida in 1994 under Bobby Chavers earning his 3rd degree Black Belt in Taekwondo and earning his Certification.
Relocated to North Carolina developing more experience and training achieving his 4th degree black belt from 8th degree Master Warren and Elizabeth Davis from Greensboro N.C.
Achieving his 5th degree Black Belt from Master Chris Penn from Greensboro, N.C.